SARASOTA FERTILIZATION AND DETHATCHING SERVICES BY TURF FOX
There are many different aspects to landscape maintenance, especially when it comes to maintaining a lawn to ensure that it is both healthy and aesthetically appealing. But proper lawn maintenance can be stressful and time-consuming, especially if you're not familiar with all the ins and outs of landscape maintenance. A lot of folks don't even know what Sarasota fertilization and dethatching services are or how they can help your lawn. Save yourself the headaches associated with doing your own lawn care! Choose to have Turf Fox's highly trained landscape professionals handle all of it for you!
We offer a variety of high-quality services for landscape maintenance, including (but not limited to) Sarasota fertilization and dethatching. If you aren't sure what these services are, we've provided a brief overview for you below.
FERTILIZATION SERVICES IN SARASOTA, FL
Making sure that your lawn gets enough of the appropriate nutrients is key to helping it stay healthy. And while the specific nutrients needed might vary depending on the type of grass you have in your lawn, some of the most important nutrients that your fertilizer should contain are nitrogen, phosphorus, and potassium. Lesser nutrients such as magnesium, calcium, and iron can also be very beneficial. Fertilizers come in a wide variety of types; synthetic fertilizers are the most common and come in both solid and liquid forms. Organic fertilizers utilize natural and organic ingredients, and hybrid fertilizers can combine both natural and synthetic fertilizer compounds.
You don't need to stress out over which type to pick all by yourself, though! We offer comprehensive fertilization services in addition to our dethatching services (which we will discuss shortly). If you wish to get started on a fertilizing plan for your lawn, all you need to do is contact us to discuss the project and we'll be more than happy to get started on it for you. If you'd like to learn more about our Sarasota fertilization and dethatching services, please read on!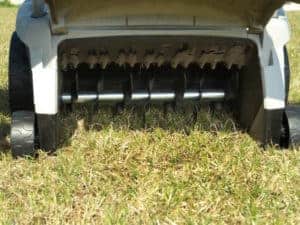 GET EXPERT DETHATCHING SERVICE AND BRING YOUR LAWN BACK TO LIFE!
If you've never heard of thatch or the dethatching process before, you're not alone. Many homeowners aren't familiar enough with lawn care to understand some of the lesser-known aspects of maintaining a healthy lawn. Thatch is the term used to describe the layer of roots (both dead and alive) that exists between the blades of grass that make up your lawn and the soil below; when this layer is at a good thickness, it can help to retain moisture and encourage healthy grass growth.
When it becomes too thick, however, problems can occur. If the thatch of dead roots is too thick, water cannot soak through into the soil to hydrate the roots that need moisture. This can result in your lawn becoming dehydrated, and it will eventually dry out and die. Luckily, we offer dethatching services that can clear out this problem with minimal hassle to you; not only will you not have to struggle through dethatching your lawn yourself (an arduous ordeal, especially if you're not used to doing your own landscape maintenance work), you can rest assured that our well-trained landscapers and gardeners will complete the process both efficiently and effectively in order to keep your lawn healthy. Get in touch with Turf Fox today for a free estimate on any yard care service!